Professional Deck Cleaning Services Montgomery County PA
Experienced Deck Cleaning
Many homeowners have decks made of pressure-treated wood on their properties, while others have features made of vinyl, composite, or even aluminum. Regardless of the material that your deck is made of, you need to make sure that it is maintained well.
Did you know that most pressure-treated lumber is generally treated with a specific chemical that protects it from decay and rot and wood-eating insects like termites, etc.?
However, that same pressure-treating process also makes wood surfaces more porous and, as a result, more susceptible to different types of moisture damage. Many of these decks collect various contaminants much faster than the flat surfaces around your home.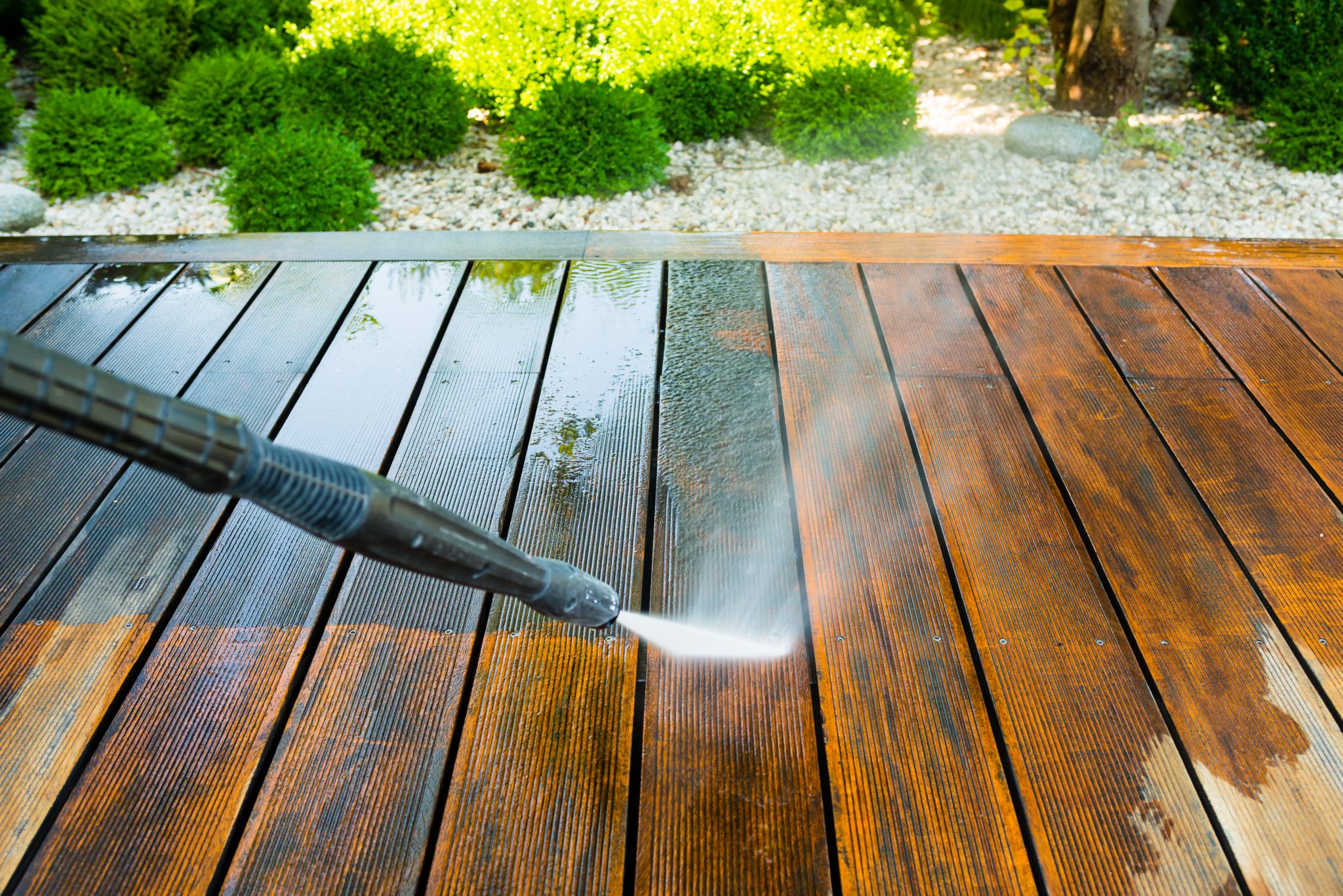 All decks require routine cleaning and maintenance over time, even composite decks. Dirt, mold, and algae build up over time. Different kinds of wood require different methods of cleaning. Clear Choice offers professional deck power washing services in Montgomery County PA and Bucks County PA.
Why Hire Professional Deck Cleaning Services?
This is the reason why decking tends to be one of the dirtiest surfaces in the outdoor spaces of a property. The best way to make sure that your deck retains its condition and appearance is to make sure you clean it with regularity. But this isn't a job you can manage yourself for too long. It can take time and effort to keep your deck looking clean at all times, and this is where the services of a professional deck cleaning company like ours come into the picture.
We are a leading company in this industry and have been offering high-grade professional power washing services to clients for over 25 years. Our team of experts can handle cleaning of vinyl, composite, and wooden decks. While the runoff from your roofs brings contaminants to the deck's surfaces, we use appropriate and safe pressure to wash them away.
Keep your Deck Clean and Looking New
Mold, algae, and dirt don't stand a chance, and we guarantee you'll be amazed at what a difference our professional deck cleaning makes to the condition and appearance of your deck. You no longer have to worry about stains, mildew, mold, and dirt, creating havoc on your deck's surfaces. If you feel that the surface is looking dull and dated or that it doesn't feel clean, it's time to call us for professional deck cleaning services.
Do not let the winter weather or even the UV rays of the sun impact the condition of your deck. Get it cleaned regularly from experts like the ones at our company. Thanks to the power and effectiveness of pressurized water, all the winter grime and summer debris and dirt will be quickly blasted away without damaging your deck in any way.
 Customized Professional Deck Cleaning Services
We understand that every property is different and that every client will have specific requirements. We work closely with our clients and make sure that we have a clear understanding of your requirements and provide services accordingly. Our team is highly skilled in professional deck cleaning and makes sure that every inch of your deck is cleaned to perfection. While we offer high-quality solutions, you will find that our services are incredibly affordable. That also means you don't have to think twice about hiring us for your regular deck cleaning requirements.
Our professional deck cleaning is done without the use of any harsh chemicals. Instead, our team uses the latest and most advanced power washing technology to ensure incredible results. Our experienced, professional deck cleaning technicians always work efficiently, safely and systematically, maximize convenience, and minimize hassle.
Don't wait for the BBQ season or for your next big party to get your outdoor spaces looking good. Call Clear Choice Power Washing today with your professional deck cleaning requirements on this number- 267-884-4838 or request a free quote through this page.
Your Trusted Power Washing Company
Clear Choice Power Washing offers safe, low-pressure house-washing and pressure washing services. We will safely remove all mold, mildew, dirt and other pollutants from any surface without damaging that surface. We have over 25 years of experience and hundreds of satisfied customers.  We are fully insured and registered with the State of Pennsylvania as a home improvement contractor. Call for references as you will see we are professional, reliable and very affordable.
Clear Choice Power Washing
421 Carpenter Lane
Hatfield, PA 19440
Call: 267-884-4838